The Culmination of the American Dream
In 1978 while attending Lewisville High School and working part-time through the school sponsored work-study program, John Thompson found his way into the field of Land Surveying in Flower Mound, Texas – where he began working in what would become his life-long passion, and career. By 1981 Thompson had scaled the ranks to become a Junior Party Chief and by 1984 he was running and coordinating 4 separate field crews. By 1993, John acquired his License and opened Thompson Surveying in Aubrey, Texas, where he immediately set about proving his talent and skill in all areas of Land Surveying. In the time passed, Thompson has excelled in surveying for all phases of land development, Including Conceptual Design, Zoning exhibits, Preliminary and Final Platting, etc. In 1995, Thompson Surveying Successfully merged and incorporated with another firm in Krum, Texas and soon bought out all of the corporate shares.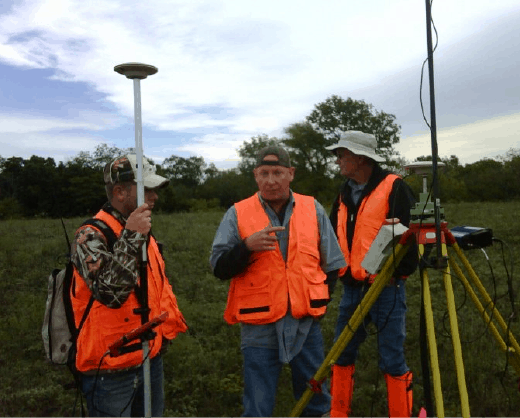 Later, under the leadership of John Thompson, branch offices were opened in the Texas cities of Gainesville and Decatur. Eventually, Thompson Surveying, through periods of mergers, buyouts, growth, trial and error evolved into the mature, well-grounded and successful Surveying firm it is today. Hence, All American Surveying was born.
Having legally acquisitioned all files and records from all past mergers and associations, All American Surveying has positioned itself toward having a sharp edge over our competition. Throughout the history of this organization, we have performed over 20,000 surveying ins multiple areas, counties, and municipalities throughout North Texas. While the road has been neither short, nor easy, we see our story as a true Realization of Success.
Offering civil, residential, commercial and municipal land surveying across North Texas.All American Surveying is founded by a team of solid leaders in the Surveying industry that have been in the business for over a decade, working together to create the best possible product. The company is family owned and operated and has built a reputation in the Dallas-Fort Worth area for providing unique, professional solutions for all of our client's needs.
JOHN E. (J.T.) THOMPSON II
J.T. has been a registered surveyor for 20+ years. He graduated from Lewisville High School in 1980. He has attended various seminars and training on CAD, GPS, F.E.M.A., Control Systems, Minimizing errors and adjustment, Boundary and Field Surveying. Starting out as a rodman in 1978. By 1981 he excelled to Junior Party Chief and by 1982 he was coordinating 4 crews. After registering in 1990 he has excelled in construction surveying, route surveys, boundary, topographic, ALTA surveys, mining, Oil and Gas, and bridge layouts.